In terms of Utah's contemporary dining scene, Meditrina was one of the first restaurants to offer tapas style dining in the state. Chef and owner Jen Gilroy's restaurant blazed a trail that would soon be common place across the city and country. The restaurant moved to it's new digs in the trendy Central 9th neighborhood in 2016, but still offers the same, flavor forward cuisine that put it on the map nearly a decade ago.
The tapas menu remains at the new location and is better than ever; taking in the global inspiration it offers a wide array of dishes from harissa fried cauliflower through shrimp and grits and tempura fried frog legs.
And you needn't spend an arm and a leg either, Meditrina offers some of the most affordable fine dining in Salt Lake City. During most weeks the restaurant offers regular wallet friendly specials such as:
Tapas Tuesdays, endless tapas, $28/person
Wine Wednesdays, $8 flights and $20 bottle selection
Happy Hour, three snacks for $10, Tue-Sun, 5pm-6pm
As you can see from the above, another important part of the Meditrina experience, is a robust liqour menu with a particular focus on wine. The restaurant regularly offers wine socials and wine pairing dinners, featuring many boutique wineries such as Bucklin and Ruth Lewandowski.
165 West Harvey Milk Blvd, Salt Lake City, Utah 84101
(801) 485-2055
www.meditrinaslc.com
Bambara
Hit up Bambara on the ground floor of the Monaco hotel and you will be treated to the New American fare of chef Nathan Powers. The menu showcases hearty proteins and seafood dishes all the time with an eye on seasonality and local produce. The restaurant's classy design harks back to the locations former operations as a bank and is suitably matched by the expert wait staff – all sharply attired.
Pictured dish: PEI mussels
202 S Main St, Salt Lake City, UT 84101
(801) 363-5454
www.bambara-slc.com
Forage
Forage is the restaurant that put Bowman Brown and Viet Pham on the culinary map. While Pham no longer cooks at the restaurant, Brown continues to elevate the SLC dining scene with the innovative cuisine Forage is famous for. Crisp linens, intimate ambiance and first rate service complete the scene.
Pictured dish: Utah trout roe
370 E 900 S, Salt Lake City, UT 84111
(801) 708-7834
www.foragerestaurant.com/
Frida Bistro
Frida Bistro's refined cuisine makes it one of the best Mexican restaurants in SLC – not to mention one of the best fine dining options too. Don't come looking for loaded burritos – because what you will find is excellent hand crafted food served in a chic and sexy dining space.
Pictured dish: Chilaquiles with carne asada from brunch menu
545 W 700 S, Salt Lake City, UT 84101
(801) 983-6692
www.fridabistro.com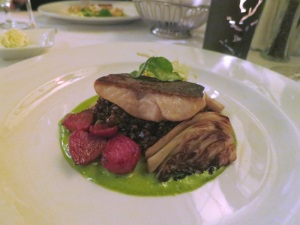 Goldener Hirsch
Take a trip upto Deer Valley and enjoy the rustic mountain side charms of the Goldener Hirsch restaurant. Chef Ryan Burnham (formerly of Pago) matches the candlelit alpine sensibility with a keen eye on local product. Think local Utah lamb in a mouthwatering lamb sausage or perfectly cooked Utah trout.
Be warned you will probably want to make a luxurious night of your visit and stay in the Inn, modeled after Austria's original Goldener Hirsch.
Pictured dish: Utah trout
7570 Royal St, Park City, UT 84060
(435) 649-7770
www.goldenerhirschinn.com
Log Haven
Log haven is another restaurant that holds a plethora of accolades, this fine dining hotspot is also one of our picks for the most romantic restaurants in SLC.
Chef Dave Jones works his magic on a menu manages to balance a love of bold Southwestern flavors with a delicate and creative touch; all housed in the jaw dropping mountain hideaway. Log Haven is a GSLC local partner.
Pictured dish: Quinoa crusted salmon
6451 E Millcreek Canyon Rd, Salt Lake City, UT 84109
(801) 272-8255
www.log-haven.com
Martine Cafe
Offering tapas dishes in Salt Lake long before the trend became de rigeur on just about every new menu, Martine Cafe is one of downtown SLC's fine dining stalwarts. On the menu you will find the flavors of North Africa, Spain & Provence lovingly prepared by chef Tom Grant and delivered by a solid service crew.
You won't find this restaurant blaring away on Facebook or offering half price dining deals. The restaurant is an intimate and chic space, filled with a mix of in the know regulars and more than one famous face.
Pictured dish: Lamb bolognese with gnocchi
22 E 100 S #200, Salt Lake City, UT 84111
(801) 363-9328
www.martinecafe.com
Naked Fish
It's not just the fresh fish flown in from all over the world (including Japan's Tsukiji fish market) that makes Naked Fish the real deal – the whole package is a class act. When you can count two qualified sommeliers on the staff in Sunny Tsogbadrakh (executive sushi chef) and David Hopps (sous chef) – before you even count head sommelier Christian Frech – you know something special is afoot.
In the kitchen there's sous vide lamb and pork belly and up front at the sushi counter – stunningly beautiful and fresh sashimi. Stop by for the insane ramen at lunch or omakase at dinner (advance notice required) – its all great.
Pictured dish: Sampling of sashimi from chef's omakase
67 W 100 S, Salt Lake City, UT 84101
(801) 595-8888
www.nakedfishbistro.com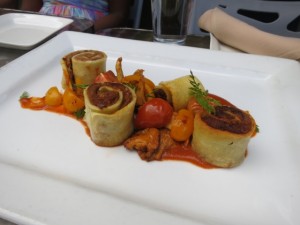 Pago
Pago is Utah's first farm to table restaurant that with sister restaurant Finca, continually pushes the boundaries of using locally produced fare, to create magical and seasonal dishes.
The intimate space in SLC's hip 9th and 9th area fills up fast nightly. You'll want to head back time and time again though to sample the ever changing menu matched with sommelier Evan Lewandowski's perfect pairings.
Pictured dish: Fleischnacka from Bastille day dinner
878 S 900 E, Salt Lake City, UT 84102
(801) 532-0777
www.pagoslc.com