Scribble July 12th into your calendar right now – that's the date for the return of the ever popular
Eat Drink SLC
event; now into it's fourth year and getting bigger and better as it ages. The mega-sized garden party is a sell out spectacle each and every year – and this years will no doubt sell out earlier than ever too. If you've never been, the name is pretty self explanatory on what to expect. But just to be clear, here's the breakdown from the official website:
EAT | Celebrate Salt Lake's coming of age as a culinary hotspot by sampling the best in seasonal fare from many of our finest restaurants and food purveyors. DRINK | Sip wines from an international selection of boutique wineries. Taste craft cocktails from small batch distillers. Enjoy local beer from award-winning Utah craft brewers. SLC | All proceeds benefit local non-profits that enhance our community and our lives. Eat Drink has raised over $45,000 for worthy causes such as Comunidades Unidas, Race Swami, Tracy Aviary, and SB Dance. Our 2018 community partner is Neighborhood House.
Held on the grounds of Tracy Aviary (6.30-9.30 p.m.) this year you'll find the following local businesses offering samples: 3 Cups Amour Café Avenues Proper Bambara Beehive Cheese Beltex Meats Caffe Niche Copper Kitchen Copper Onion Cucina Eva's Fire And Slice Frida Bistro La Barba Coffee Lake Effect Manoli's Normal Ice Cream Pallet Park City Culinary Institute Provisions Red Rock Brewery Stanza Stoneground Takashi The Blended Table The Dispensary The Garage Grill Tracy Aviary Bird Feeder Trio Vive Juicery White Horse Spirits & Kitchen Zest Moreover, the number of
Wineries
,
distilleries
and
breweries
are too numerous to list here – check out the full list on the Eat Drink SLC site direct. Your ticket price includes a commemorative wine glass, which you simply take to any of the participating drink stalls – they'll give you a small tasting pour. From my own experience, here are a few tips: * Expect heat. Lots of heat. The event is mid July and historically temperatures are busting the mercury – dress and plan accordingly; bring hats, bring sun screen, wear comfy shoes, plan to encounter wildlife. * EDSLC is setup as one big loop around the grounds of Tracy Aviary. Vendors are grouped into three main areas around that loop, and crowds can often congregate at each of the tasting areas. As you go through the entrance and get your tasting glass, the event naturally directs you to head left, and that's where the thronging crowds head. If you want a quieter/calmer experience, there's nothing stopping you turning right and hitting up businesses in reverse order. I've not tried this myself yet, but every time I go, I plan to do this next time around. The caveat here is that by the time you get back to the start, some vendors might have sold out. * Which isn't a huge deal. The selection of food at EDSLC is quite large. Caveat emptor and all that – each year is different of course – but I've always found lots of diverse items, ice cream to slices of pizza to small gourmet nibbles. Tickets are priced $90 (plus booking fee) and can be purchased online at:
https://www.eatdrinkslc.com/checkout/232/eat-drink-slc/1198/eat-drink-slc#buy-tickets
Still on the fence? Here are a few shots from previous years to give you a feel for what to expect: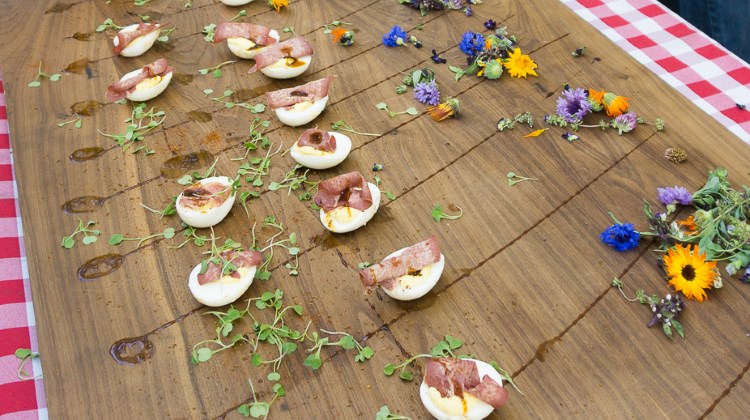 Hi, I'm Stuart, nice to meet you!  I'm the founder, writer and wrangler at Gastronomic SLC and The Utah Review; I'm also a former restaurant critic of more than five years, working for the Salt Lake Tribune.  I've worked extensively with other local publications from Utah Stories through to Salt Lake Magazine and Visit Salt Lake.
I'm a multiple-award winning journalist and have covered the Utah dining scene for more than a decade.   I'm largely fueled by Uinta Cutthroat, alliteration and the use of too many big words I don't understand.  I ate all the pies.
This site is 100% free of intrusive third party ads through the generous headline sponsorship by The Gateway - SLC's premier entertainment destination.
This article may contain content provided by one of our Partners or Sponsors. These are some of the best businesses in Utah. The current businesses we work with include:
Alamexo
,
The Angry Korean
,
Avenues Proper
,
BGR
,
Bourbon House
,
BTG Wine Bar
,
Caffe Molise
,
Cafe Niche
,
Campos Coffee
,
Current Fish & Oyster
,
Desert Edge Pub
,
Kyoto
,
Feldman's Deli
,
Log Haven
,
Meditrina
,
Oasis Cafe
,
Porch
,
Proper Burger
,
Proper Brewing Co
,
Saffron Valley
,
Stanza Italian Bistro
,
Vida Tequila
,
Vine Lore
,
Whiskey Street
,
We Olive
,
White Horse
.
For a list of all our past relationships and timelines, please see our historical partnerships page.