Black Sheep Cafe
– Or to be more precise, Black Sheep At Epic Brewing Sugar House. Quite. To my mind this is the fourth overhauling of both menu and concept for Epic Brewing's Sugar House location. If memory serves, Robert Angelili's fancy pub grub menu took first blood in 2013, followed by Craig Gerome's attempt to bring a fine dining sensibility to the menu only to then be replaced with a second spin at trad-pub food. Unless I've missed anyone in the time line, this brings us to today and Utah County's Black Sheep Cafe. On the face of it, this seems like A Very Good Thing Indeed (TM); Black Sheep have considerable kudos and cache from their Provo origins. Entering the space, you're still greeted by the cold case of fabulous Epic brews to go (available seven days a week I might add). The interior dining space remains my favorite in this now quite fancy neighborhood, industrial chic without the bleak. It may trend too dark for some, but I know you've got a flashlight on your cellphone, so stop complaining. The room is spacious, the bar area remains to grab a pint, and on a recent visit the staff were friendly, charming and on hand any time we needed them. Seated at a table, you still get handed an exhaustive menu of Epic brews in various sizes from sip to sup. So far so good. Reading through the
Black Sheep menu
, things start to feel less assured. Much like the original Black Sheep the menu flirts with blurred lines of Mexican, South Western and Native American cuisines; but also feels confident in seguing into areas such as Japanese – posole ramen anyone? And yes, more pub food. A trio of burgers includes a Sheep and Goat burger. These are ultimately nothing more than bison burgers in ovine and caprine clothing – the exotic names little more than branding nods. And they're $19 a pop. Price check on aisle three: downtown's Copper Onion flips a burger that will change your life for five bucks less and across the road at Fiddler's Elbow a by the numbers pub burger is a mere $8.95. The proof is in the pudding though, and Black Sheep's is fine enough in execution (cooked with a tinge of pink remaining) and flavor – but the price point is over zealous in comparison to its peers. A $14 green chile Stew felt fairer and unlike the pork belly ramen posole, made contextual menu sense. Brisket tacos served on fry bread sounded, um, epic; but on an evening where we experienced a slow as molasses kitchen – they were left to sit too long on the pass. The round of fry bread topped with hefty chunks of brisket was pretty as a picture, but limp and listless. This is a business still very much still finding its feet, but as a colleague of mine is always quick to point out – if you're asking diners to pay full price, you're also asking them to consider you a fully operational businesses, be it day one or day one hundred. Back to that name then. Is this a bar by Epic? Is this a restaurant by Black Sheep Cafe? Is it a brew pub? Is the menu meant to lean towards pub grub to support the beer, or stand on its own as refined Mexican with dollops of Native American? It's unclear to me why a customer would select to dine here, or drink here, or even better yet which customer the business would prefer to attract? As current
Yelp reviews
attest, I'm not the only one who finds the concept confusing. These issues aside, I'd desperately love for them to find their feet quickly, I'd be genuinely over the moon for them to crack the puzzle; pricing and execution problems aside, we still cleared our plates and downed our pints. There's potential for something special here. I love the space, the beer and the menu shows promise. Fingers crossed.
1048 E 2100 S #110, Salt Lake City, UT 84106 (801) 742-5490 www.blacksheepcafe.com/
Chile-Tepin
– This new Mexican restaurant calls the Crane Building home; most recently occupied by Cafe Trang, and if you've been here long enough to remember, Xiao Li before that. The restaurant is a family business, opened by the chap who previously ran the La Fountain just down the street. The restaurant seems to have set it's sights squarely on the mid ground of the market. This isn't cheap and cheerful tex-mex nor is it particularly high end or refined. It's a canny move, and seems to have already attracted a sizable following. Inside, it's a modern, slightly upscale feel. The dining room is dominated by the large windows looking out onto 2nd South and 3rd West. Exposed brick walls and the odd pop of stylized decorative pieces complete the picture. We took a seat by one of the windows to people watch, and immediately felt comfortable. I barely had time to remark how busy the restaurant was before a gratis order of vivid chips and salsa hit the table. The speed of service is an underlying theme at Chile-Tepin, if you're dining with a time constraint, you should be good. Case in point, an order of guacamole arrived at our table lightning quick, bordering on worryingly so. That said, the cadillac margarita I ordered came equally fast, and I'm never going to complain about a fast drink. Never. The
menu at Chile-Tepin
covers plenty of well traveled ground: burritos, tacos, chimichanga, combo plates and the like, everyone should be happy with the selection. But there are also several more interesting options too: molcajete, parrillada, alambres de res, items you don't encounter often. At a recent dinner an order of carnitas stood out; juicy pork, thoughtful plating for the price point, solid corn tortilla, clean and fresh flavors. I'll be back again.
307 W 200 S, Salt Lake City, UT 84101 (801) 883-9255 www.facebook.com/ChileTepin/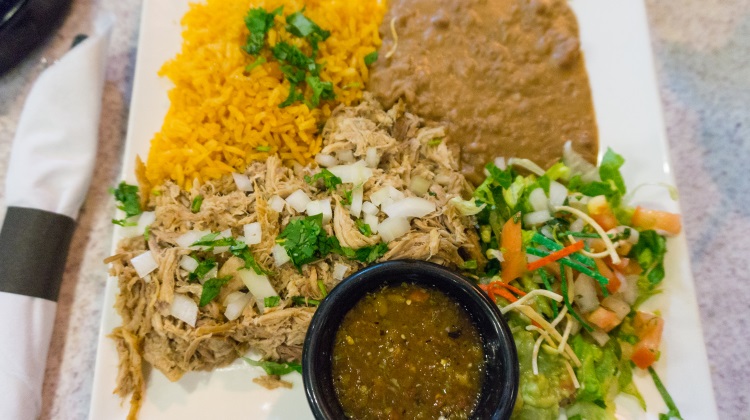 Hi, I'm Stuart, nice to meet you!  I'm the founder, writer and wrangler at Gastronomic SLC and The Utah Review; I'm also a former restaurant critic of more than five years, working for the Salt Lake Tribune.  I've worked extensively with other local publications from Utah Stories through to Salt Lake Magazine and Visit Salt Lake.
I'm a multiple-award winning journalist and have covered the Utah dining scene for more than a decade.   I'm largely fueled by Uinta Cutthroat, alliteration and the use of too many big words I don't understand.  I ate all the pies.
This site is 100% free of intrusive third party ads through the generous headline sponsorship by The Gateway - SLC's premier entertainment destination.
This article may contain content provided by one of our Partners or Sponsors. These are some of the best businesses in Utah. The current businesses we work with include:
Alamexo
,
The Angry Korean
,
Avenues Proper
,
BGR
,
Bourbon House
,
BTG Wine Bar
,
Caffe Molise
,
Cafe Niche
,
Campos Coffee
,
Current Fish & Oyster
,
Desert Edge Pub
,
Kyoto
,
Feldman's Deli
,
Log Haven
,
Meditrina
,
Oasis Cafe
,
Porch
,
Proper Burger
,
Proper Brewing Co
,
Saffron Valley
,
SLC Eatery
,
Stanza Italian Bistro
,
Vida Tequila
,
Vine Lore
,
Whiskey Street
,
White Horse
.
For a list of all our past relationships and timelines, please see our historical partnerships page.